A Fresh Start in 2020: Updated Stable Build, Lite Version, and More!
---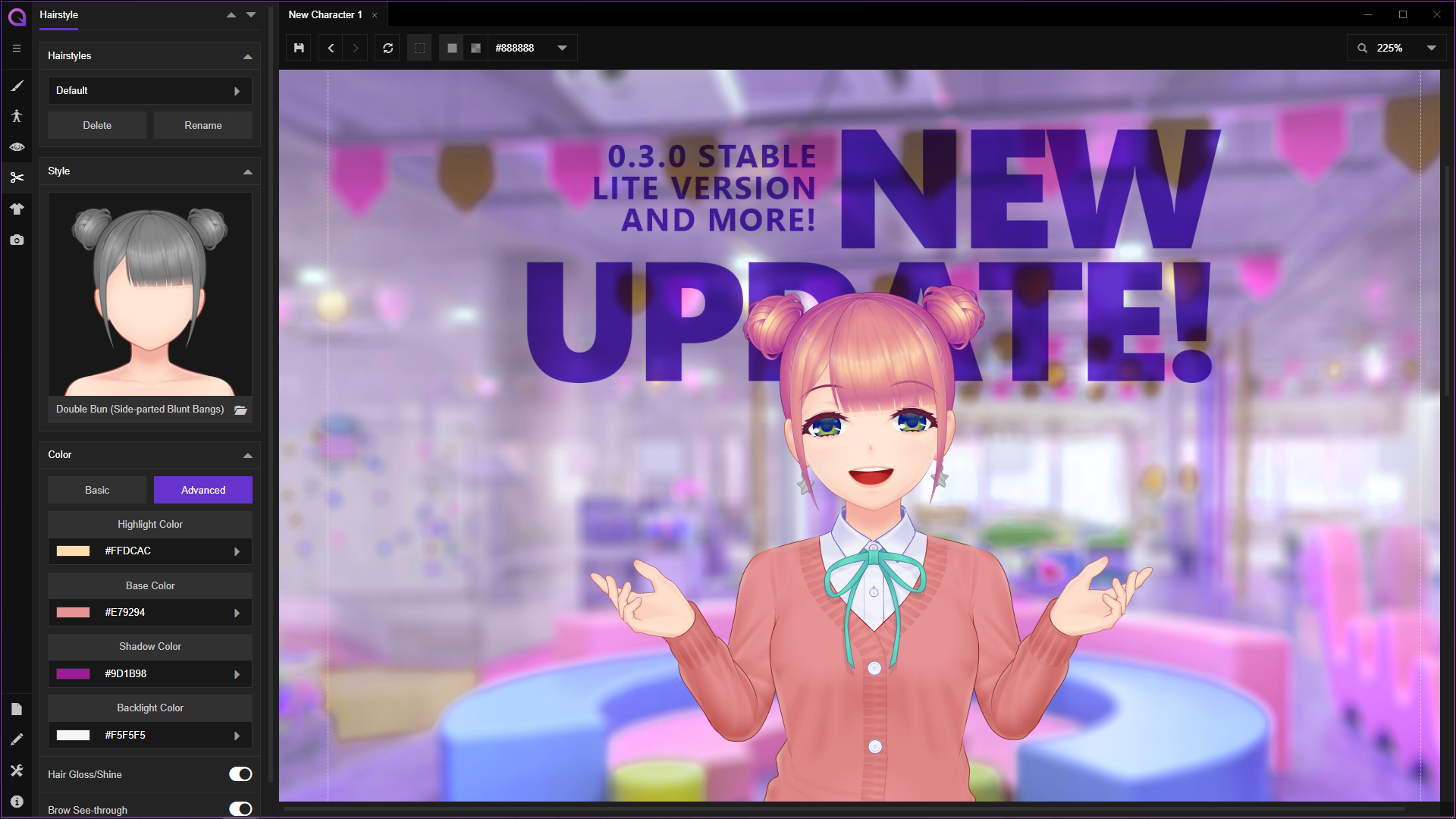 Hello there!
It has been a very long time since the last time we wrote a Development Log, and today we're back with a bang! In this occassion, we'd like to tell you more about the recently updated stable build, the replacement of demo with 'Lite' version, a recap of what happened in the past year and finally what's next in the development progress of Mannequin.
New Features
After a very long time, the latest update to the stable channel is now finally here. We've added a lot of new things and also improved some of the existing functions to bring you more flexibility and control towards your character design.
Sample Characters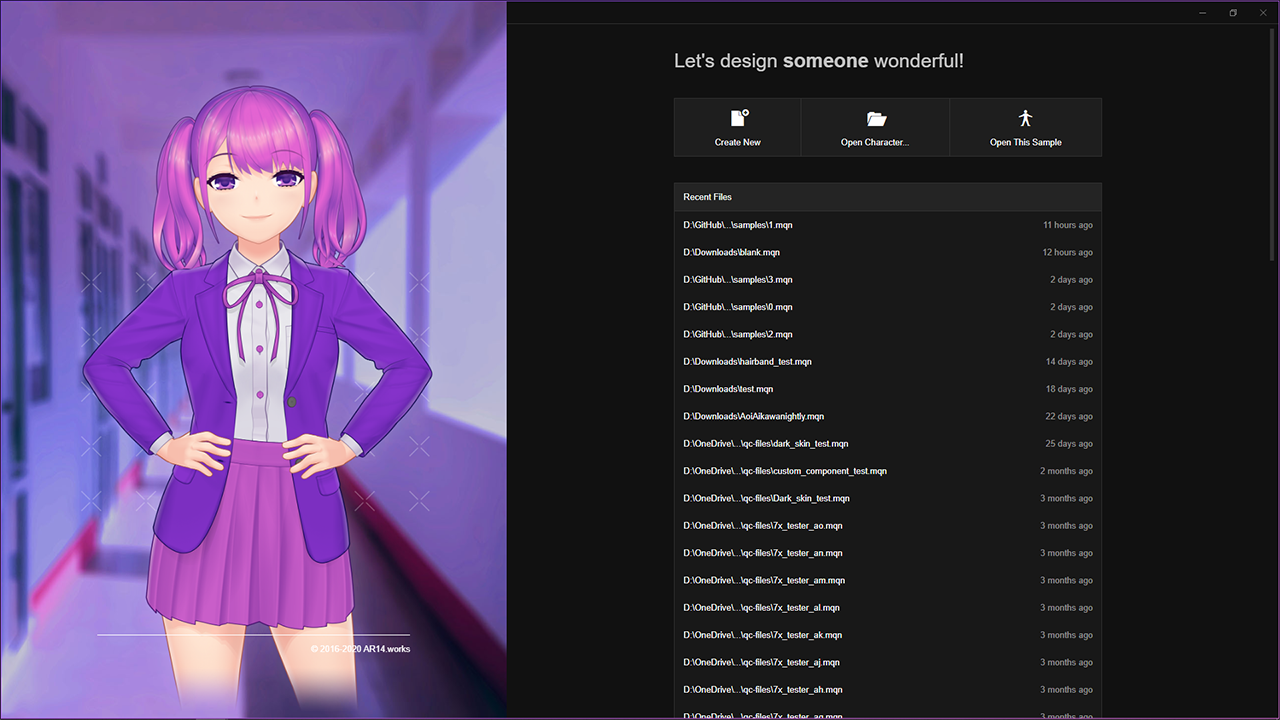 Starting from the first thing that you'll see after booting up the app, it's the sample characters! There are 4 of them (for now) that will show up in the welcome page to give you a little bit of inspiration. You can create a new file based on the character that is currently being shown by clicking on the 'Open This Sample' button.
Automatic Outline Color

Outline, which is an extra line that will be displayed on the edge of your character image, has been revamped to add 'Automatic' color mode. Bu using this mode, the outline color will be automatically matched with the corresponding clothing or body part, instead of using a specific color code.
Backlight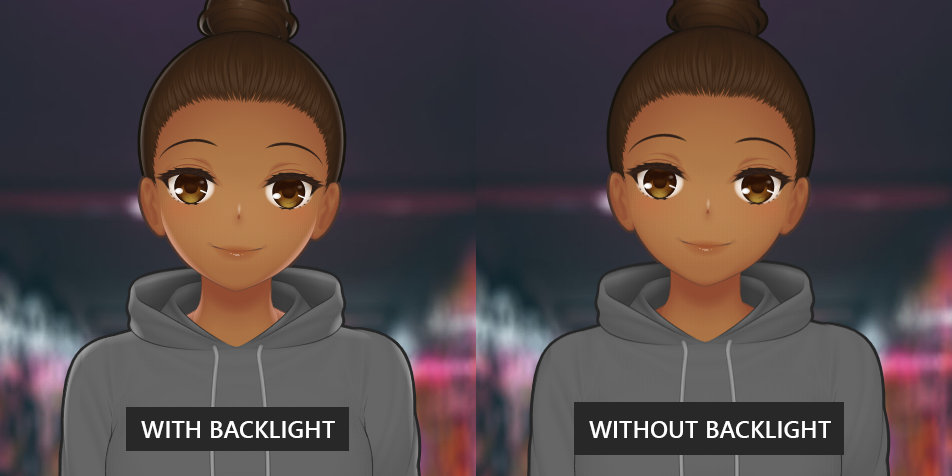 Backlight effect has been added, and it's on by default. By enabling 'Advanced' coloring mode to body, hair or clothing, you will able to adjust its color.
Background Image

You can now link or embed PNG, JPG, or SVG image as background. This image can also be included with your image exports by turning the corresponding switch.
Character Size and Position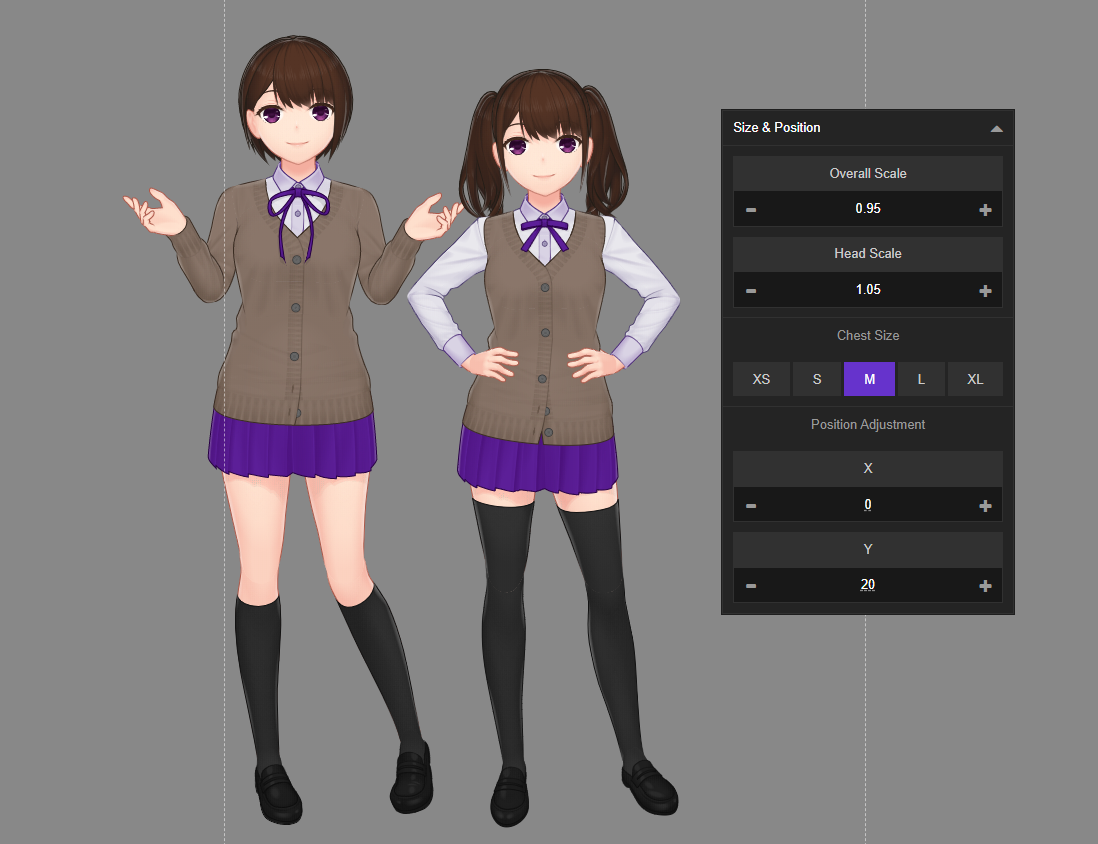 This newly added function is very useful to make your character taller or shorter. Chest size option has also been added. For now only S, M (default), and L that are available; XS and XL will be added later.
Pose Mirroring
Some poses are now available flipped. The corresponding switch will be shown when the currently selected pose is compatible with this function.
Clear All Clothing
The 'Clear All' button in the bottom of 'Clothing' sidebar can be used to quickly remove all clothing template from the currently selected clothing preset.
Clothing Color Preservation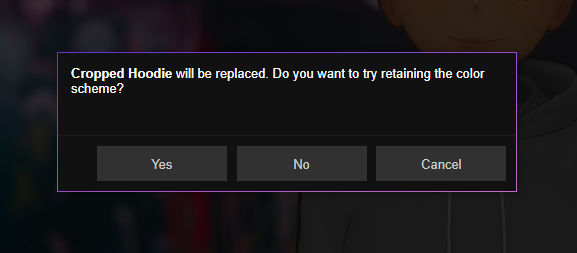 When replacing a clothing item with another one with the same number of color groups, the app will give a prompt to try maintaining the previously used colors.
PSD Export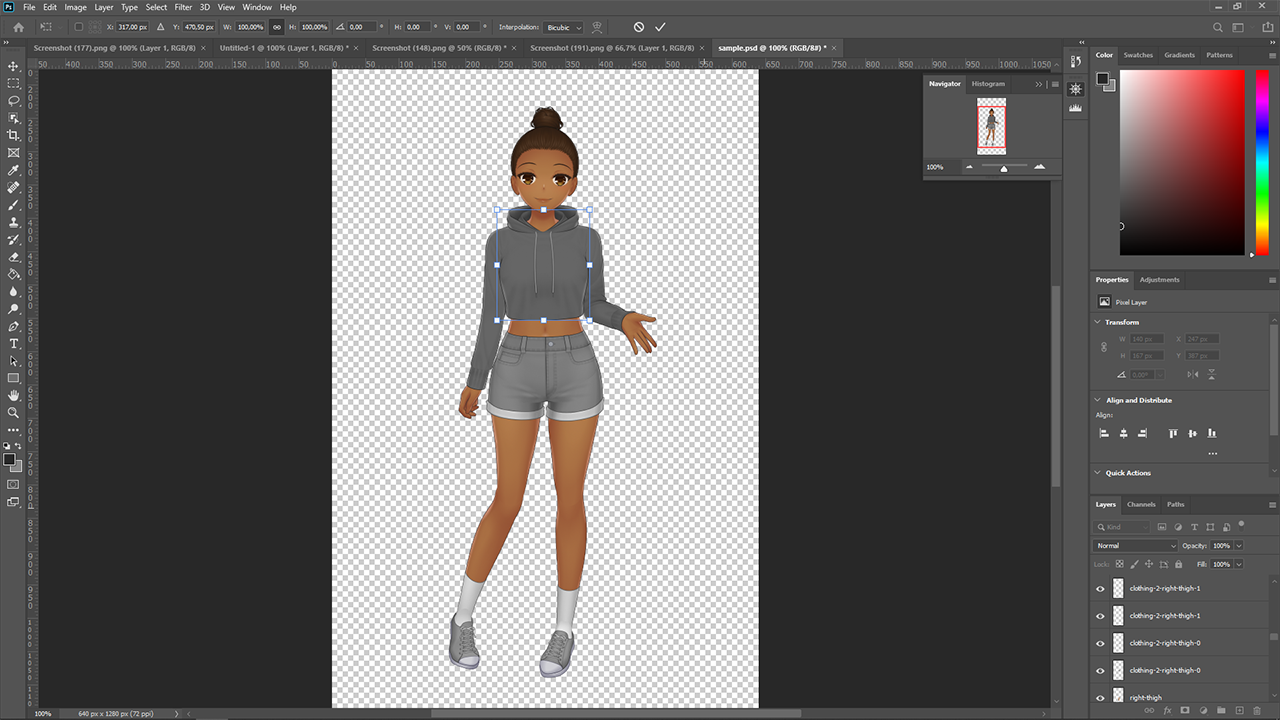 Use this option to output a layered Photoshop (.psd) file which will give you vastly more control for post-export editing. Pictured above is a sample output PSD file opened in the latest Photoshop CC version.
Supersampling
Enabling this option will render your character at two times the resolution before resizing it to your chosen size, resulting in a sharpening effect. This functionality affects bitmap-based exports (PSD and PNG).
SVG Optimization
In addition to the default SVG export which are optimized for web browsers, you can now choose to optimize it for Inkscape or Illustrator. This will ensure as much consistency as possible, because different applications render SVGs differently.
Export Layer Options
It's quite common to split character sprite into two parts: face and the rest of the body. This option will give you the corresponding functionality without needing to resort to additional applications, such as Illustrator or Photoshop.
Downloadable Content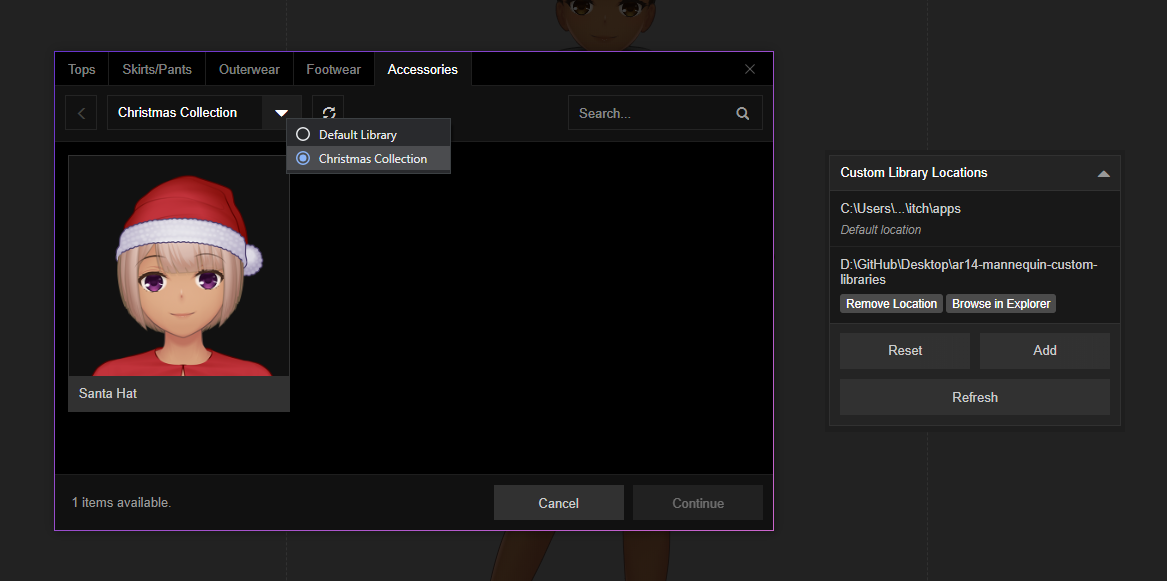 The functionality to add additional content, both official and/or user-created, has been added to the app. This is still in a very early phase, so the existing DLC that are available are mostly for testing purposes. As the development progress further, we will add more DLCs, and publish several guides/manuals to help you create your own. Every official DLCs will be free!
If you're using the itch.io desktop app to install Mannequin, then you just need to install the DLC via the same app; after that, the DLC option will be shown in the library window. Mannequin also supports custom directories for storing downloadable content which will be useful for user-created ones.
Developer Tools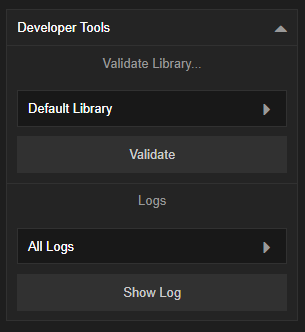 A newly added section in the 'Preferences' tab, this feature will consists of various helper tools for creating additional content. Right now there's a basic component color validation and a log viewer; in the future these tools will be expanded as we explore the downloadable content functionality more.
Template Updates
A lot of template updates has been done. Almost all of the existing templates has been redrawn, and a lot of new ones has been added. The default male template has been regressed, though; we wanted to spend more time reworking it as the default female template itself has undergone a lot of redraws for it to arrive at its current state.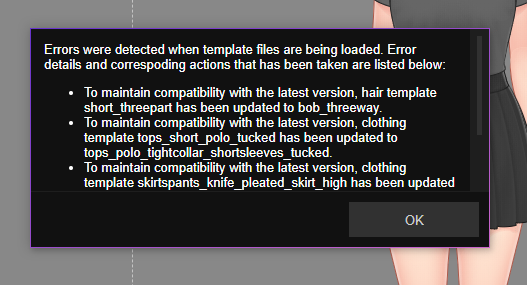 We have provided a remapping function to ensure maximum compatibility with your old character files.
Christmas Collection DLC
The newly added DLC is essentially a test DLC, which is why the included content is very sparse. It will be updated continually just like the default library, and we'll add more DLC with various themes in the future.
Lite Version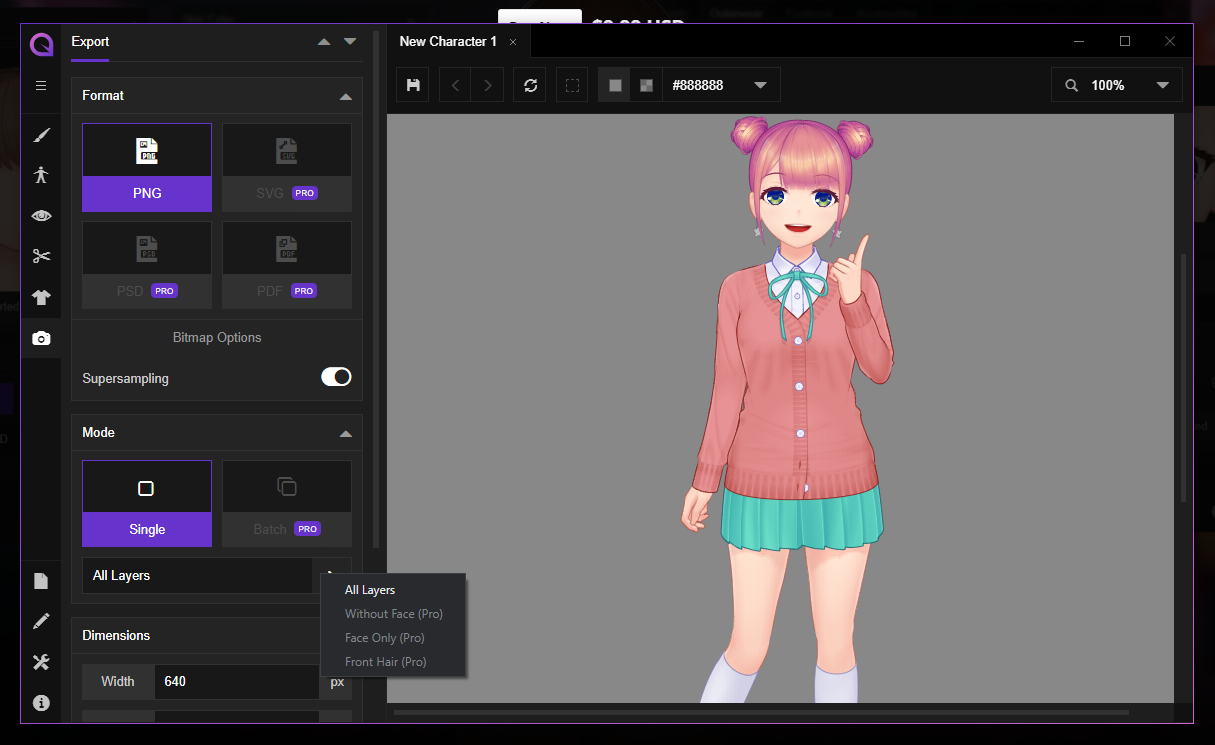 Demo version has been updated to 'Lite' version which is very usable! The previous demo has all the app functionality but without any export option whatsoever, but now we've added PNG export option to the 'Lite' version. This means you can now use it for your game development projects. As the app evolves over time and more features are added, other 'Pro' features will also trickle down to the 'Lite' version. Pictured above is a screenshot from the 'Lite' version with is export tab open.
What Happened, and What's Next?
It has been a tough year (and more) since the last Development Log update. So what happened? Why it's so long? As you might already know, the development of Mannequin is currently an one-man effort. In the future new people might be added to the team, so that's why we always use plural noun; but right now, the team currently consists of one person. Between the app, day job and life in general, it has become quite hard to maximize development time.
Due to these reasons, we have decided to streamline the entire process and sacrifice communication in preference to actual development: we ditched our public Trello board and stopped writing development logs, then switched to Twitter to provide a more concise way to share progress.
This year, though, we're entering a new chapter in the development of Mannequin and our entire app/game development endeavor in general. We have started to do this full-time, so you can expect faster updates and better communication going forward. There will be a transition process so we won't be able to immediately go full throttle, but in the coming weeks we'll see what we can do.
Twitter will still be our primary platform for the fastest information sharing, but development log will also be frequently updated again, starting with this post. The increasing complexity of the app and the newly added downloadable content feature also means that we have to start writing manuals and guides, so that will also come in the coming weeks.
For now though, it's the big update!
As always, we're very grateful to everyone who has supported Mannequin in the past years. Thank you very much, and we hope to work with you this year too!
Comments
Log in with itch.io to leave a comment.
Hooray, a program in which I can create myself
I was out of hope, thinking the software was long gone and abandoned already :/ today I thought "hey, what about mannequin" and had this surprise :D i'm so happy
It was never abandoned haha, but the journey to the latest stable update indeed took a grueling time. Thanks for staying with us!
Thanks, guy. Keep up the great work!
All of these updates look fantastic! I'm really excited to get down to checking it all out.
I'll be getting to experimenting more later today, but I wanted to ask: You wouldn't happen to know what settings (X/Y) would allow for the new sprites to get as close as possible in size to the old ones, would you?
Thank you very much! We'll try to find out and see what value that we can recommend.
Thanks so much! I bet that would be a great help to long time Mannequin users who will be carrying characters over like myself.
Greate news! The software looks pretty amasing already compared to what it was before. The work you've done is tremendous! Thank you!
Thank you very much! Glad you like it, and hopefully we can make it even better going forward!
Rencana kedepan bakalan ada fitur body weight sama breastnya kah ? Overall keren aplikasinya.

Breast sudah ada, S-M-L (XS dan XL akan ditambahkan nanti), body weight nantinya akan diimplementasikan via template, bukan parameter (sekarang default 'Female A', ke depan mungkin ditambah 'Female B' yang lebih berisi atau langsing, dan seterusnya).
Any way to contact you before i purchase this? I have a question or two, email? Twitter? Discord? Anything?
You can DM us on Twitter at @helloar14 or mail via hello[at]ar14.works