0.3.6 Update, Steam and Short-term Roadmap
---
Hello! Today we have several things to talk about, which is the latest 0.3.6 stable update, our recently published Steam Store Page, and a bit more details about what is next in the upcoming two to three months.
First, the latest stable update.
0.3.6 Update Details
This update mainly adds more clothing template compatibility with the default male body template. Most of the clothing templates which has been planned to be compatible with the male body template has been updated accordingly, and now ready to use.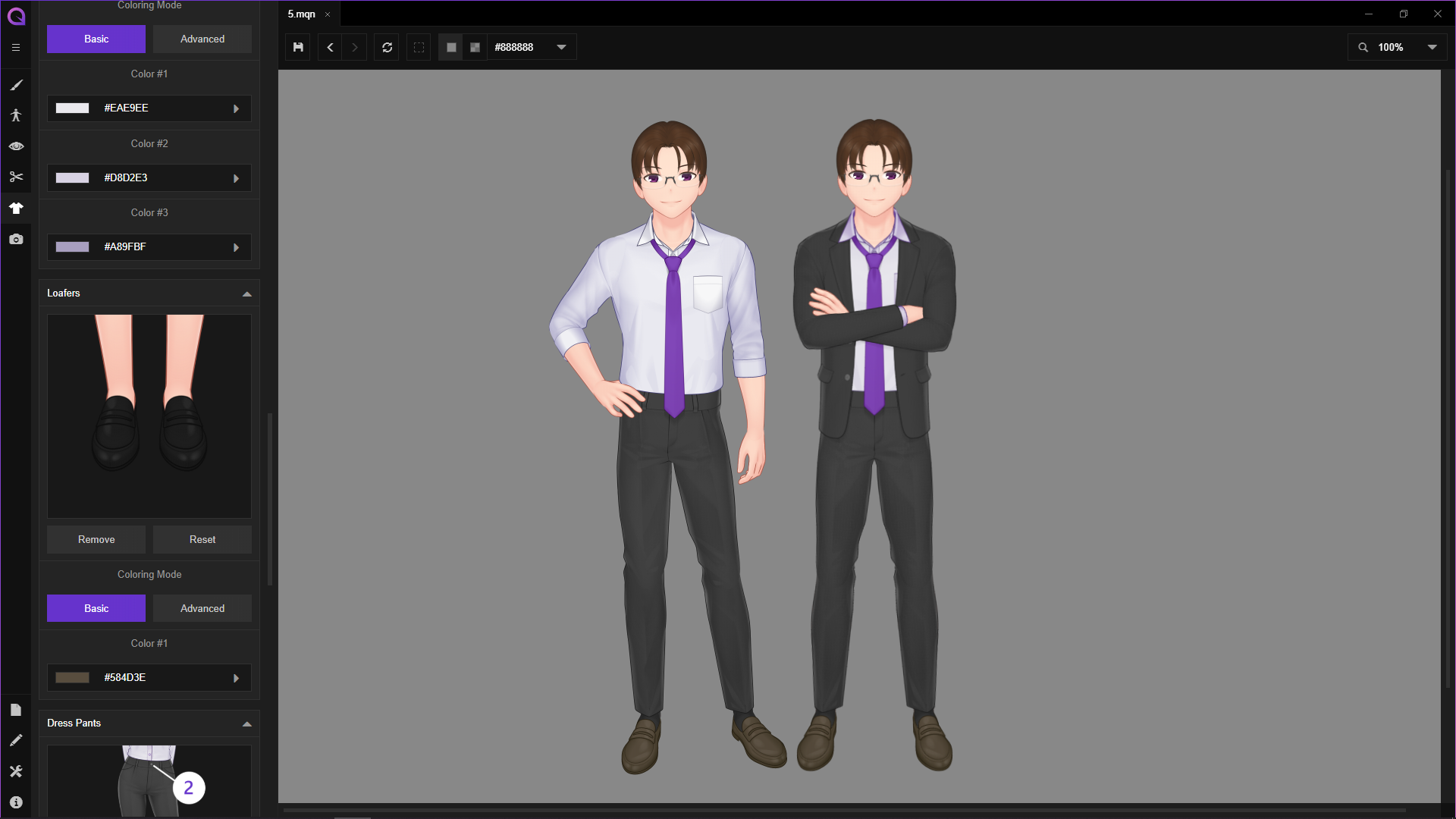 No more significant changes in this release, unfortunately, but we have other things to share:
Steam!
Yes, our Steam Store Page is now live. We have some requests in the past about publishing on Steam as an alternative to itch.io, and we are happy to say that it will be coming soon! We are planning to release it on July 14, so it is still a long time to go. Managing releases on two storefronts is a little bit complex, so we wanted to progress the app further before doing it.
When the Steam version is released, the app will still be in the Early Access phase; we are planning to continue this for a short time to gather additional feedback for the Steam builds. 1.0 release is planned for the fourth quarter of this year.
Both itch.io and Steam versions will be maintained at the same pace. For current Pro users from itch, we'll send the Steam keys to your email addresses near the Steam release date.
So, What's Next?
As both the male and female body template are nearing completion, we wanted to share some of the milestones that are planned in the short term before the Steam release in July.
Body, pose and clothing template polish. Starting next week, we will test all existing templates and refine things to provide better, more consistent details and shading.
Splitting eye templates to more parts. By doing this, we are planning to add more customization such as iris style and gaze direction.
Splitting hair templates, adding the option to choose individual hair parts (back, front/bangs, etc.) and furry ears. We will also add more variations of shorter hairstyles to better complement the male body template.
After the template splitting is done, we will start working with rotated heads and later followed by rotated full body poses.
Clothing template-wise, we are planning to add these items into the collection soon:

Double-breasted blazer, lab coat and tracksuit.
Swimsuits and other summer-ish clothes (will be separated into a DLC). As per usual, all DLCs from us are free and can be used with the Pro version of the app.
That's it for now! Hopefully all of you are safe and healthy, and as always thank you very much for your continued support and feedback!
Comments
Log in with itch.io to leave a comment.
Where can I find DLCs for this? I just bought the pro version. thanks!
Hello! At this moment, all of the DLC is pre-packaged with the Pro version of the app. Currently there is only one (Christmas Collection) with Halloween Collection coming later this month. As the DLC size grows in the future, we might split the DLCs into separate downloads, but it's not needed for now and we'll make sure to broadcast the info if the time comes.
Thank you vermy much for your support!
Thank you - I literally saw that this morning .... probably shouldn't be half asleep when I try to operate a new software for the first time. ;-)
Hi, @helloar14! I'm interested to use your software to create character portraits for my games. But, I have some doubts, if you can help me, I'd be very glad:
1. I didn't understand its license. What can I do with it? Can I use portraits generated in my (free or commercial) games? Should I attribute/mention you/your software created those graphics? Are Steam and Itch.io licenses identical?
2. What kind of expressions (joy, fear, angry, etc.) can it create?
3. Currently, how many variations (male/female/mob, hair, etc.) can it create?
4. If you have an e-mail address, I'd like to ask other things too. :-)
Hello! Thank you very much for your interest. To answer your questions:
1: You can use any of the export output generated by the app for any of your projects, either personal or commercial. You don't have to credit us for it. Right now there's no specific sentences in the EULA that stated this, but there's no sentences that is saying against it either. We'll add more specifics in the future to the license but the general rule is something like what previously stated.
2 & 3: Actually, there's too much to count; you can try the free version of the app to find out yourself! You can find the download link in the itch.io store page, or if you're using the itch.io desktop app you can install the option marked as 'Demo'. The functionality that is reserved for the paid version also shows up in the free version, with clear 'Pro' markings on them.
4: You can contact us via other means such as our Twitter DMs or e-mail us at hello[at]ar14.works
Thank you very much!
will the ability to change the character's gaze direction still be in the July update?
Good progress! Publishing on Steam should help you reach bigger audience. I do not know the complications of the process, but I think it's a smart decision.
Good luck! And stay safe.