0.3.12 Update: Reworked Hairstyle Templates!
---
Hello! Today Mannequin has been updated to 0.3.12 and we have brought a lot of big changes to the app. Let us go into more details!
New Features
Here are the highlights of the new features introduced in this update:
Reworked Hair Template Structure
Hair templates has been totally reworked, enabling much more control and customization. Previously, you can only select one hairstyle template, assign hair color, and that is it. Now hair templates are split into four parts: Primary Hairstyle, Bangs, Sideburns/Wisps, Facial Hair, and Additional Hair Parts/Accessories. Each part can be colored independently.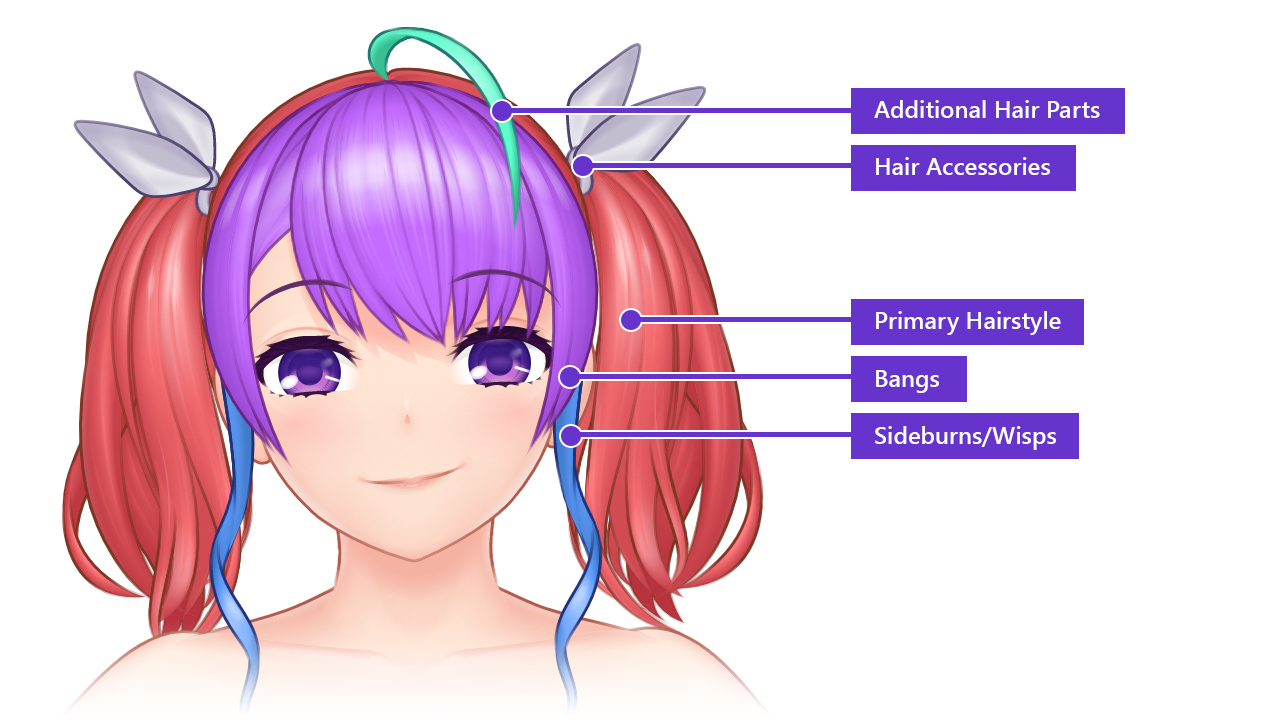 With Additional Hair Parts, we are now able to accommodate various popular styles that has been requested before, such as 'Ahoge' and Animal Ears.
Hair Accessories has been moved from Clothing Styles section to become a part of Hairstyles. This is due to the nature of various hair accessories that is dependent to a specific hairstyle. For example, ponytail bow requires, as expected, ponytail hairstyle to work. However, if you have a character with two hairstyles, say one with hair let down and one ponytail, then a Ponytail Bow in the Clothing Styles section becomes problematic, showing or not showing depending on the active Hairstyle. With the latest change, we can now bind each Hair Accessory to a specific Hairstyle, always ensuring that it works properly. This is also why hats are not considered hair accessories since they are less dependent to a specific hairstyle and are more universally compatible in nature.
Alongside this restructured template, we have also added a lot of new hairstyles into the mix. Here are some samples of what you can now create which is not available in the previous versions of Mannequin: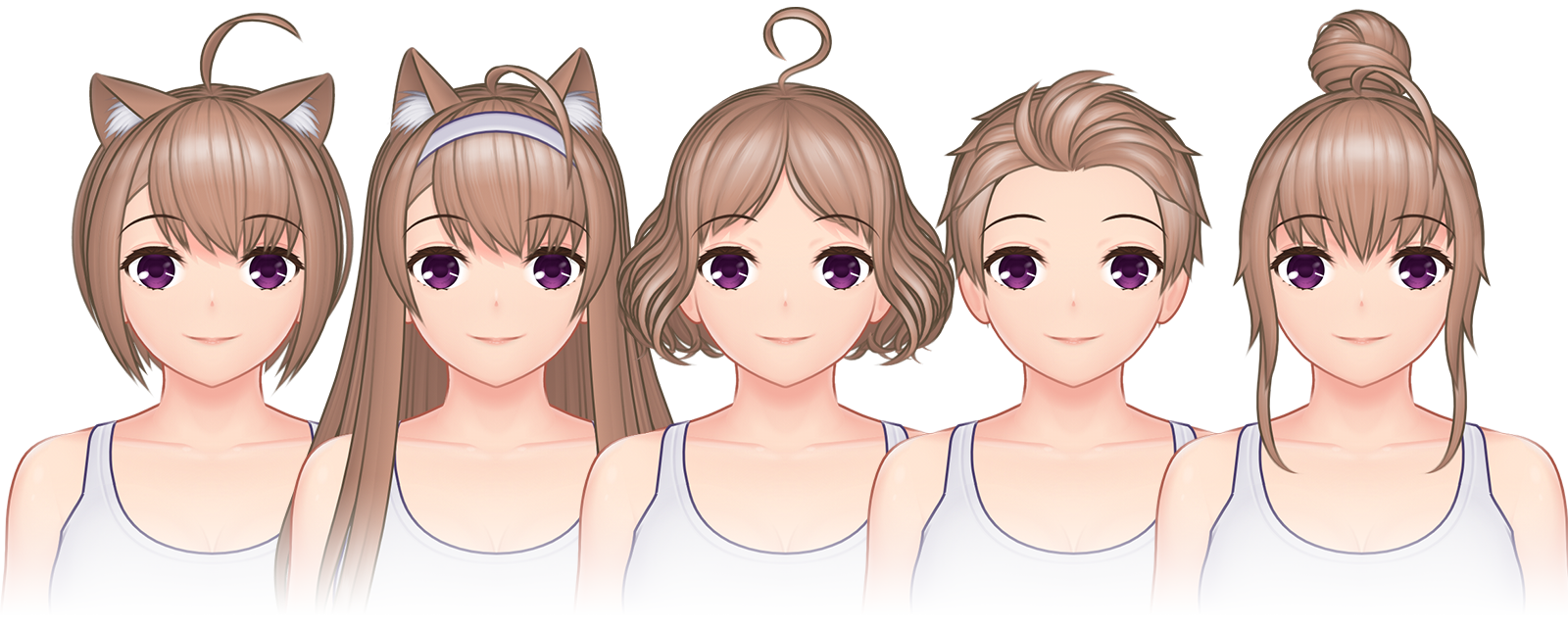 PNG Export Cropping
If you are using the PNG export format as your primary choice, then chances are you really do not want the hassle of using additional image editing applications at all. Therefore, we have added canvas cropping for PNG export, with option to automatically crop so that is no empty pixels on each side or set the cropping dimension of each side manually.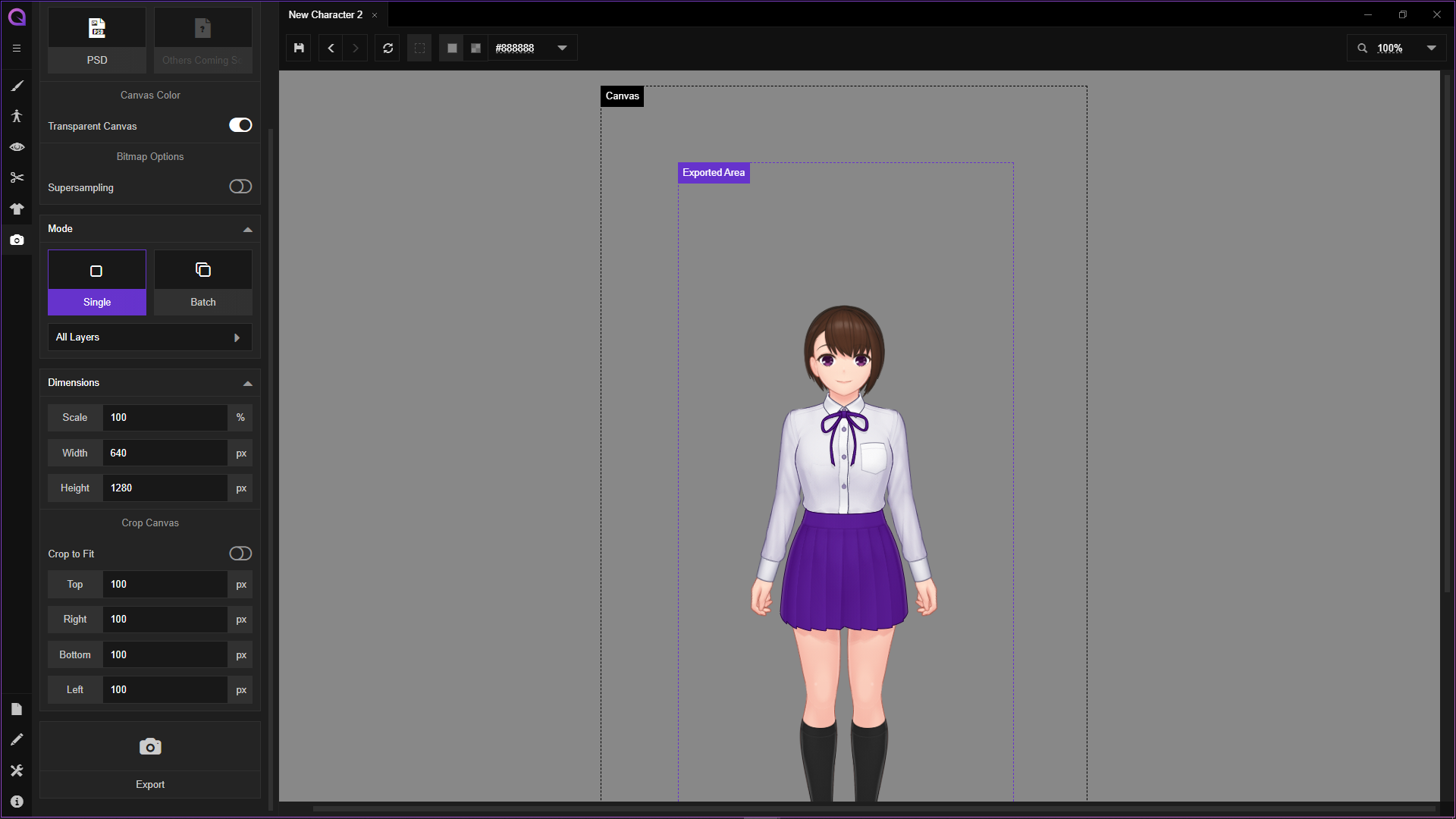 Compact UI
Multitasking is of course a common occurrence in the world of game development, so with this update we have tweaked Mannequin's UI to support a more compact dimension. With the compact UI active, the sidebar becomes collapsible to allow more space for the canvas.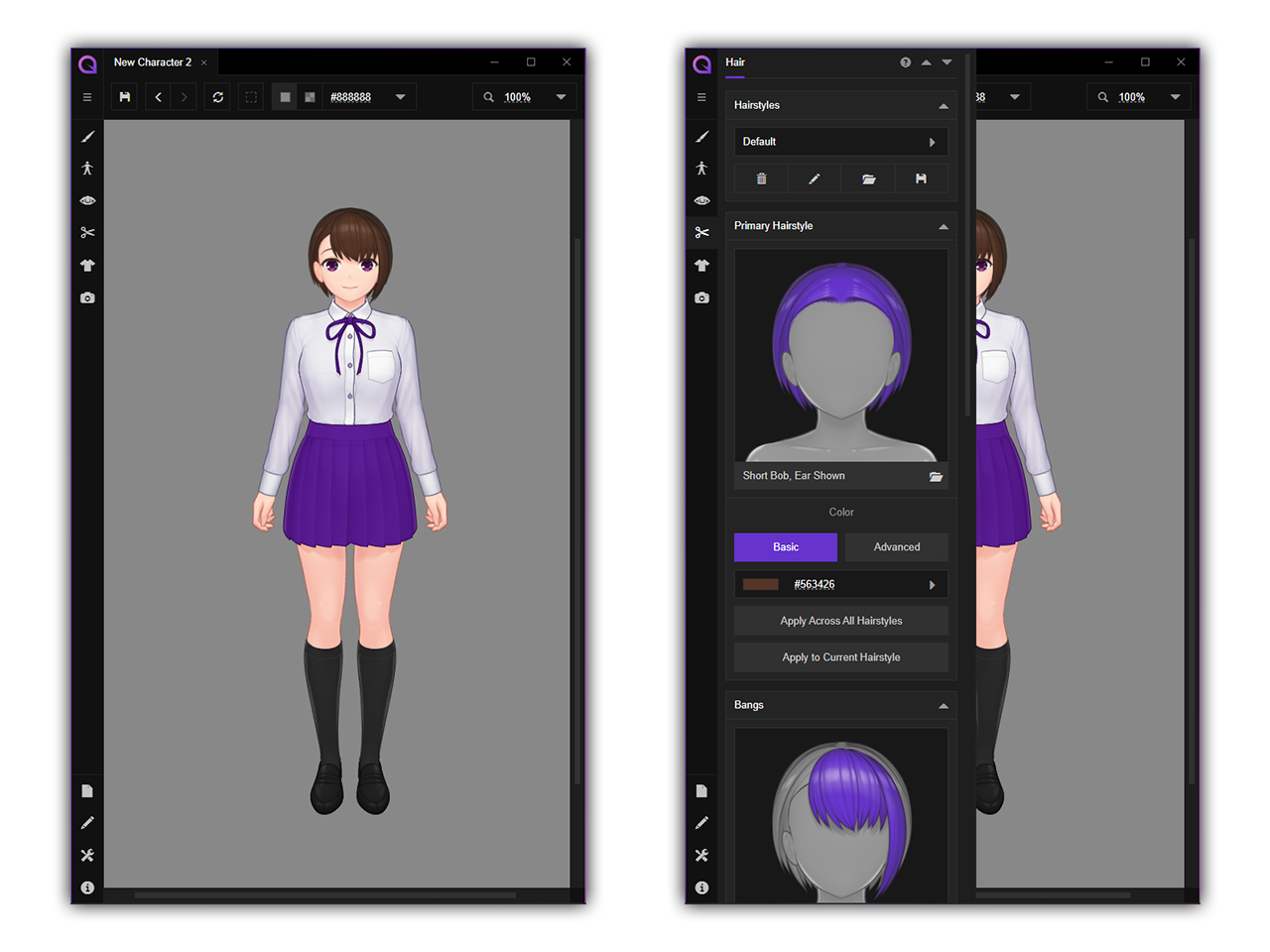 Other Tweaks & Performance Improvements
Some other aspects that have been added or improved in this version are:
XS and XL chest sizes are now available to use.
Legs for the female template has been adjusted for a more proportional length.
Iris and Lip Style can now be applied to all Expressions.
Very minor change in character such as iris style change should now render faster.
UI response for several controls (plus, minus buttons and color pickers) has been tweaked to update without waiting for the canvas to finish rendering.
Character Animator PSD export now can be aborted mid-progress.
Choosing 'Clothing Only' Export Mode with PNG format will now create a perfectly cut clothing image minus the body parts, ready to be stacked with a naked base via your preferred game engine (for example, layeredImage in Ren'Py). Check out 'Invisible Bra' in the 'Tester Items' DLC section to make a naked base that will not clip in the chest area when making female characters.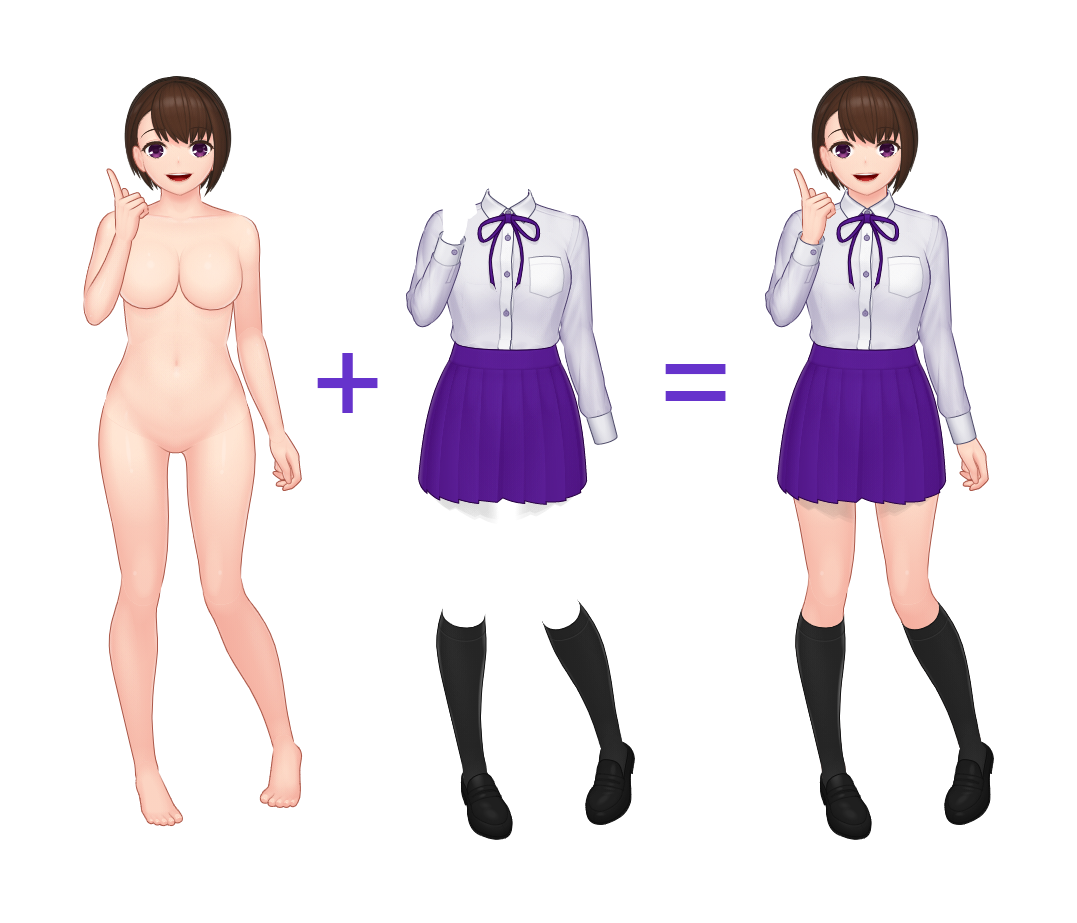 Bugfixes
Below are some of the bugs that has been fixed in this version:
Iris style reverting to default when switching between expressions.
Refresh button in the library window not working under some circumstances.
Using Character Animator PSD Optimization causes Export Mode section not showing up, even when switching to PNG or SVG export.
What's Next?
With the fundamental change in hairstyle template now already done, our next focus will be adding more content and optimizing how the app deals with more custom content:
Library window will be tweaked to better convey parts that are currently equipped, and we will add option to show content from the default library and installed DLCs all at once.
Better indexing for template changes in the filesystem.
Initial support for Steam Workshop, highly likely to be very rudimentary at this early stage.
We also have some more performance improvements already in the pipeline. This will also be accompanied with an option to switch between high quality preview (as shown right now) and a low quality one, which will improve editing speed.
In the content-side of things, we are planning for a Summer Collection DLC, which will add items such as bathing suits add summer dresses.
That is all for now! It has been a long journey for this update, but we believe in the end it was worth it considering the massively increased customization capabilities. We apologize for the extended delay that plagues this release and will do better for the next.
As always, stay safe, stay creative, and see you in the next update!
Files
Pro (Windows 64-bit)
260 MB
Lite (Windows 64-bit)
241 MB
Pro (Linux 64-bit)
254 MB
Lite (Linux 64-bit)
235 MB
Pro (Mac - Unsigned 64-bit)
327 MB
Lite (Mac - Unsigned 64-bit)
305 MB